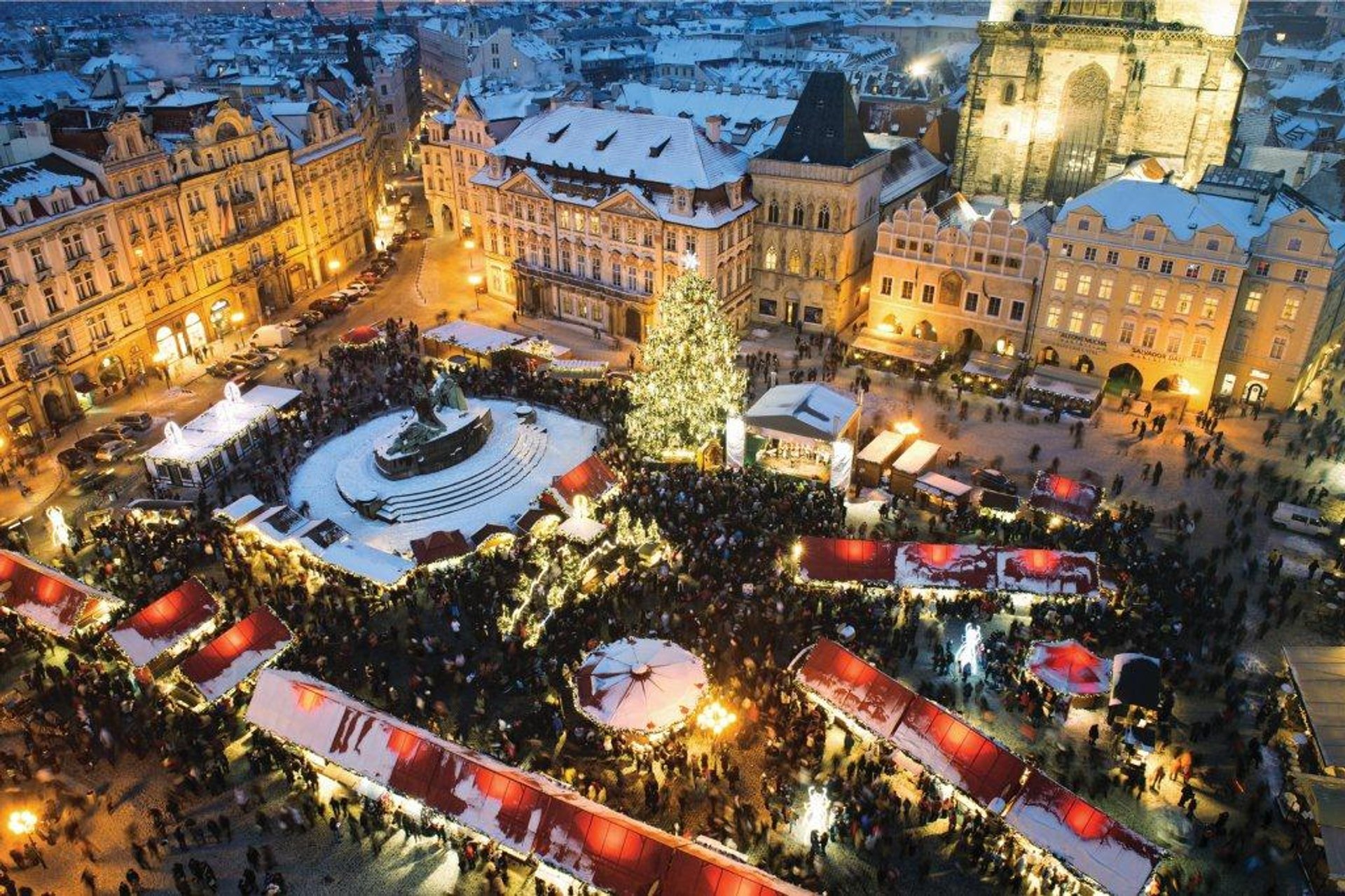 On Sunday, December 1st, Locus is organizing a get together to explore the Christmas Markets of Prague (learn more and register to attend).
That seems like a perfect reason to write a blog post about Prague's amazing Christmas Markets!
Do you want to visit them? Here are a couple of reasons why your answer should be YES.
There is no doubt that Prague is one of the most beautiful European destinations all year round, the Christmas period is no exception. Winter brings some magic into the city when everything is covered with lights, (ideally) snow and the aroma of the Czech Christmas treats makes it the perfect magical wintertime location. The famous Prague's Christmas Market is the best place to go to experience the atmosphere, hang out with friends and family or do some last-minute gift shopping for the loved ones. It doesn't matter if you're a tourist or if you're already established in Prague; the Christmas Market is a popular place for both visitors and locals and is definitely a MUST DO activity if you are in town. After the official Christmas tree lighting ceremony, the markets will be open until the 6th of January, which gives you plenty of time to visit. If you're still in doubt or would like to know what's in it for you, here are some reasons and tips on why you should visit Prague's Christmas Markets this year.
Best place indeed
The Christmas Market in Prague has been voted among Europe's top 10. Despite a drop in its rating, Prague's Christmas Market is still beating Europe's most popular travel destinations such as London or Paris. The medieval atmosphere and familiar feel are the elements that bring people in. Nothing seems to be better than getting cozy in the old streets of the beautiful city.
Go local
Tourism in Prague is massive, and Christmas time is no exception. People from all over the world come here to experience the city and markets, so it can get crowded. No worries! There are plenty of smaller, local Christmas markets where you can treat yourself and experience the amazing atmosphere to the fullest. You can find those at Náměstí Míru or Tylovo náměstí close to I.P. Pavlova Metro stop). Also, just around the corner from Locus Workspace, you will find the market at náměstí Jiřího z Poděbrad where you can experience the cool, hip vibe of the Vinohrady neighborhood.
#yummy
Treats are an inseparable part of the 'Christmas Market' experience. If you stroll around, you will find plenty of traditional gingerbread, mulled wine (svařák), spit-roasted ham, sausages, eggnog, Trdlo ("traditional" Czech dessert that appeared on the Czech scene in the early 2000s) and all kinds of Christmas cookies. If you're living in the Czech Republic, you know that traditional Czech cuisine is far from vegetarian/vegan-friendly. Lucky for you, there will be healthy alternatives to traditional local holiday favorites and many food stalls will be serving healthy fare. So, go find your favorite and, "Dobrou chuť!"
What else is going on?
There's definitely more to Prague's Christmas Markets than just eating (although we love that). Rich cultural programs will be accompanying the visitors with performances from both local and international artists, children's workshops and plays for both children and adults. The stalls will be selling different Czech products which might make the perfect present for your loved ones. Look for some Christmas ornaments, wooden toys, glassware, scented candles, jewelry and gingerbread products.
Time to talk
What about some chatting over mulled wine? Christmas is one of those times when nobody wants to be alone and there is a need to have good company. We've got you covered. As noted at the start of this blog, on Sunday, December 1st, Locus Workspace will host a get-together Meetup event for everyone who wants to have a walk around the Christmas Markets in Prague, have some goodies and spend time with individuals from all over the world. Let's share each other's stories and learn how Christmas is celebrated in your country. We meet at 3 PM at the Statue of Saint Wenceslas. Are we going to see you there?